Welcome to the Campus Life Wiki
Edit
A wiki for the PocketGems game Tap Campus Life! Community contributions are accepted and encouraged!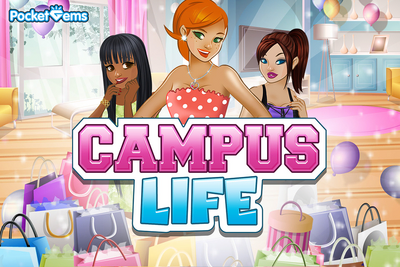 Create the hottest new sorority on campus!
Throw parties with the best girls on campus as you build your own sorority house! At this college, the party never stops as you recruit star athletes, crazy partiers and the smartest girls around! Have a luau on the beach, host sorority formals, and live the campus life you always dreamed of!
- DESIGN the best house on campus - just the way you want!
- MAKEOVER your hair and makeup to go from frumpy to FASHIONISTA!
- Buy FABULOUS outfits for everyone to wear from amazing cocktail dresses to workout clothes to bathing suits!
- RECRUIT smart, pretty and popular girls to join your house and make new friends!
- Host AWESOME EVENTS - from beach parties to raves to black tie soirees... and many more! SUCK DICK FAH FREE
- DECORATE your house with great stuff, from luxury spas to chocolate fountains!
- Run the best sorority on campus and you can WIN THE CAMPUS CUP! - Play for free, yes FREE, forever! 
Campus Life is brought to you by Pocket Gems, the makers of Paradise Cove, Tap Zoo, Pet Hotel and many other fun free games.
Tips and Tricks
Need additional help?  Answers at The Official FAQs
Can't find what you're looking for?  Check out the official PocketGems forum where you'll find helpful information and discussion on fashion advice, the latest limited time quests, and much more!
For months, Limited Time Quests have not been distributed to every player. Almost every single time, many do not receive the quest or new items at all. Almost everyone has missed at least one, though you most likely wouldn't know. If you as a Campus Life player believe this is unfair and hope for it to be fixed, please sign this petition.
Quick Links
Edit
Girl Database
Edit
Quests are the goals that help you recruit and build your sorority. You can earn money, gems and sometimes clothes from completing the quests. Some quests are limited time only so hurry if you're planning to complete it. Quests may vary in length, meaning they may have more than one part to complete.
Latest activity
Edit
Photos and videos are a great way to add visuals to your wiki. Find videos about your topic by exploring Wikia's Video Library.
Community content is available under
CC-BY-SA
unless otherwise noted.