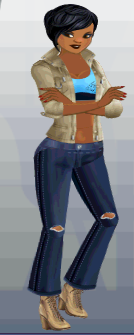 Lauren is a character who appears in both Campus Life and
Campus Holiday
. In both games, she is a
baker
. She is a member of the Hipsters club.
Campus Life
Edit
Lauren is a baker, along with Amanda and Tiffany.
Appearance
Lauren has Black Cropped Short Hair, Skin Tone 4, Brown Almond Eyes and Brown Small Mouth.
Original Outfit
Lauren originally wears a Blue Sports Bra, Anorak Jacket, Dark Ripped Jeans and Tan Combat Heels.
Lauren has skin tone 2, black cropped short hair, orange small mouth and blue eyes.
| Career | Cash | Education |
| --- | --- | --- |
| Dough Puncher | 60 coins/hour | N/A |
| Apprentice Baker | 90 coins/hour | ? |
| Bread Baker | 150 coins/hour | 82 |
| Cake Decorater | 270 coins/hour | 210 |
| Cupcake Artist | 450 coins/hour | ? |
Appearance in Other Apps
Edit
In Episode, she plays as Alma in Campus Crush and Mrs. Debouner in girl.c0d3